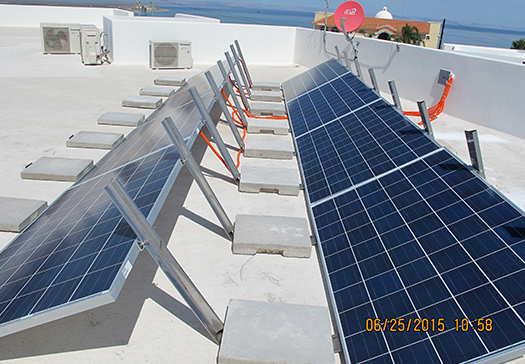 As the cost of solar panels continues to decline, choosing the most cost effective solar panel racking is more important than ever. The design not only determines the material cost, but also the time it will take to install. Solar racking for community solar gardens requires a solution between utility-scale solar and residential solar.  Community solar gardens, often on large, flat roofs or open public spaces require flexibility, good aesthetics, and low cost. Ideally, a community solar garden racking system will also not need specialized labor, to keep as much benefits in the community as possible.
Pinpoint Solar has released a minimalist solar racking system that reduces the cost by using less materials. They claim that most solar panel mounting systems use extra materials because they don't utilize the rigid structure of the solar panel itself.  By starting with the solar panel and building out, the company ended up with a solution that weight just 3.3 pounds per solar panel (before the ballast weight of course).
The racking system is so simple that it could offer a community the opportunity to install their own community solar gardens and take a more hands-on approach. The solar panels and racks are secured by the weight of the ballasts, so there are no holes to dig or drill. If course, eliminating penetrations also reduces the risk of leaking when installed on a roof.
The adjustable racking system is attractive for shared solar gardens that are located within communities, as it can offer a hands on way for members to seasonally adjust their solar panels to maximize production.  Getting the angle right is essential for getting the most out of solar panels, and the optimal angle changes depending on the season.
The company notes that as you move away from the equator, the benefits of seasonal adjustments are improved.  Manually adjusting solar panels could be a good compromise between fixed solar mounts and expensive solar trackers.
The adjustable mount also lets community solar garden operators to optimize for a certain time of the day.  For instance, if real-time energy prices make solar less valuable in the middle of the day, an adjustable panel can be turned to maximize production later in the day.  With uncertainties in future market structure, flexibility is increasingly important.
Hardware and installation costs have also  become more important than ever.  As the cost of solar panels declines, other costs make up a larger percentage of the total installation cost.  Innovations like this can help installation costs continue to decline and unlock new markets.
It was designed by R&D company Sisyan LLC, who operate in the fields of solar desalination, solar PV water heating, and solar PV mounts.
According to the company, the design came from the need of a easy to install system to go with their desalination and water heating installations.  "There were few solutions between hobbyist kits and utility-scale solutions that require heavy machinery.  We believe that ultimately, most solar will fall somewhere between these extremes, and a better solution was needed."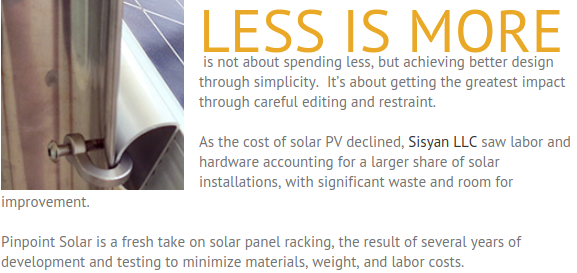 According to a recent article in Solar Energy Media, the racking system could be a gamechanger for rural and island communities with heavy import tax burdens.  Pinpoint Solar is looking to partner with local installers, who can import, cut, and bend the 316L aluminum sheet metal and streamline their processes.
See more at PinpointSolar.com